At Ridgeway Secondary School we are driven by a core purpose to educate and develop the whole person. We strongly believe that education in school does not begin and end in the classroom alone but extends to an array of opportunities and experiences that allow every student to become a well-rounded individual and citizen. Ridgeway 360 is built on the principle of guiding and developing our students in the following four areas:
Academically (knowledge and skills)
Socially (communication, empathy and kindness)
Mentally (resilience and wellbeing)
Physically (health, fitness and stamina)
Our broad and balanced curriculum is designed to both underpin and develop all four of these areas. The curriculum is complemented further by our personal development programme, enrichment opportunities and wider experiences. Ultimately, every student will receive an education that prepares them fully for life after school.
The House System
The House system at Ridgeway Secondary School is an important part of our school community. Our three houses: Attenborough, Frankin and Owen, are named after three inspiring figures who each represent and act as a champion of key values, which are central to the ethos of the school.
Each form is selected to represent one of the three houses. Cultivating a healthy competition, students will have a range of opportunities to represent and compete to earn merits for their house throughout the year. Each house will also be responsible for running charitable events throughout the year linked to one of the three houses.
Attenborough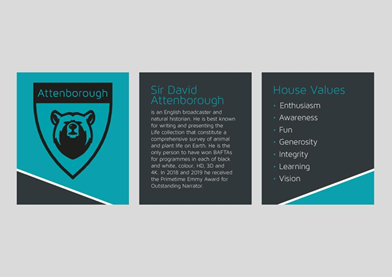 Owens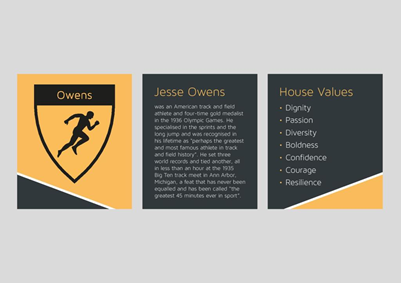 Franklin